Online Probate Service
---
Our stress-free Online Probate Service allowing Landons Solicitors to provide our long-established legal services both locally and across the country, without the need to attend our offices.
At Landons we appreciate that Probate and Estate Administration laws can be confusing and the process is often emotive. Our team of highly experienced Private Client Solicitors are approachable and sensitive and we pride ourselves on our ability to work efficiently to make the process as straightforward as possible for our clients.
We understand that it is incredibly stressful trying to deal with the technical aspects of being appointed as an Executor of a Will and obtaining a Grant of Probate, let alone trying to arrange meetings for legal advice around your busy diaries. We also understand that in the current climate not all of our clients will feel comfortable visiting an office and meeting with us face-to-face.
Rest assured, our team are here to help you every step of the way . Here's how our Online Probate Service works:
How does the Online Probate Service work?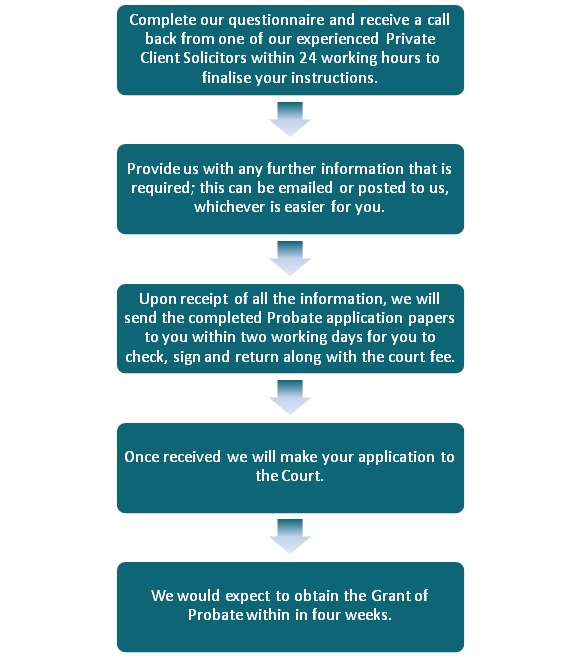 What do Landons charge?
| | |
| --- | --- |
| Grant of Probate – Form IHT205 | £900.00 plus VAT |
| Grant of Probate – Form IHT205 plus IHT217 | £1,100.00 plus VAT |
| Grant of Probate – Form IHT400 | £1,600.00 plus VAT |
| Grant of Probate – Form IHT400 plus claim for RNRB | £2,100.00 plus VAT |
| ——————————————————————————– | |
| Disbursements | |
| Court Fee | £155.00 |
| Court Sealed Copies | £1.50 per copy |
---
Start your Online Probate Application today